Equine Therapies-Nutrition-
Equine Therapies at Copperfield Equine Therapy Centre – Equine Acupuncture-Physiotherapy-  Complementary Herbal-Nutritional Products -Nutrition Advice
 Acupuncture Treatment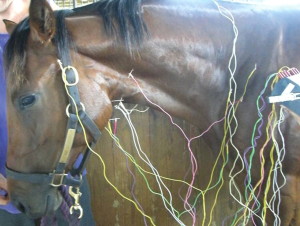 Acupuncture treatments at the Copperfield Equine Therapy & Rehabilitation Centre.
Acupuncture treatment involves inserting sterile stainless steel acupuncture needles into specific point locations, this stimulates tiny nerve endings that carry impulses to the spinal cord and brain, and using electro-current to further improve stimulation and nerve function. It is commonly used to relieve musculoskeletal pain and treat a wide range of internal medical conditions. The purpose of an acupuncture treatment is to restore the patient to a state of balance or homeostasis. By influencing part of the brain called the hypothalamus, acupuncture can affect homeostatic regulatory mechanisms such as the control of blood pressure, pulse, respiration, intestinal motility, hormone secretion and white blood cell production   
Catherine has spent the last 24 years working as an Equine Acupuncturist with an established reputation.
 Herbal Products-Complementary Herbal Feed Supplements
Catherine is a Certified Equine herbalist, using herbs and a holistic approach for over 24 years.  We  specialize in complimentary herbal feed supplements  that can help to sustain health and wellness in training and stressful situations. To be used in conjunction with a well balanced diet and balanced nutrition.
Equine Nutrition
Achieving Optimum Performance is predominately our goal:
* Feeding your horse according to body weight and workload using calories of a type and amount suitable to maintain normal weight.
* Using supplementation, nutrients and nutraceuticals to support normal growth and assist the horse in dealing with stresses, injury or illness, immune system support.
* Unique nutraceutical approaches for horses with skin and respiratory allergies.
* Top line and general muscle issues (muscle fatigue, soreness, tying-up)
* Feeding a natural diet to avoid Gastro Intestinal problems.
* Laminitis,  Abscessing and white line disease-Maintaining and sustaining healthy hoofs.
* Designing balancer's with all minerals , vitamins, amino acids etc, in compliance with your feed and hay analysis 
Equine Physiotherapy
Ruth Walsh Chartered Veterinary Physiotherapist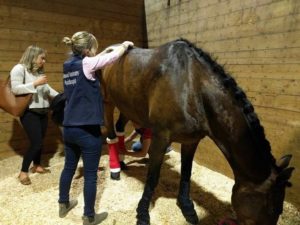 will be available to offer all our clients physiotherapy sessions especially to the equine athletes that are in recovery and those that are in heavy training and in need of treatment